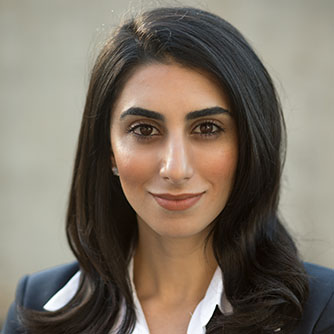 Nadine Khedry is an attorney with Panish | Shea | Boyle | Ravipudi LLP and focuses her practice on catastrophic personal injury, wrongful death, dangerous condition, and product liability cases throughout California and Nevada.
Since joining the firm, Ms. Khedry has worked on a variety of personal injury cases and recently assisted attorney Spencer Lucas in obtaining a $7,500,000 settlement for the family of a woman who was killed when an overgrown and decayed eucalyptus tree toppled over and onto her car. The tree had been negligently maintained by the apartment complex, leaving it in an unsafe condition that presented a "hidden trap" and dangerous condition to tenants.
Ms. Khedry graduated from University of California Merced with a Bachelor of Arts in Political Science and received her J.D. from Loyola Law School, Los Angeles. While attending law school, she was a member of the nationally ranked Bryne Trial Advocacy Team and also participated in the Hobbs Trial Advocacy where she served as a Certified Law Clerk for the Los Angeles County District Attorney's Office in Compton. Ms. Khedry also served as the President of Loyola's Consumer Law Society, an organization that works closely with the Consumer Attorneys Association of Los Angeles (CAALA) and was created to "educate students on the importance of justice and the role that the Plaintiffs' bar plays in securing this justice."
A member of the State Bar of California and Nevada, Ms. Khedry is an active member of CAALA and serves on the organization's Law School Outreach committee. In her free time she enjoys cooking, exploring new places in Los Angeles, reading motivational or trial skill books, and finding new legal shows like Goliath.