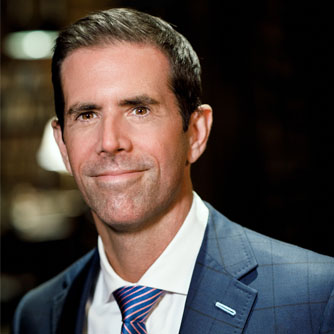 Spencer Lucas is a trial lawyer and partner at Panish | Shea | Boyle | Ravipudi LLP specializing in litigating complex catastrophic personal injury, products liability, wrongful death, and sexual abuse cases.  A member of the firm since 2007, he has extensive experience in cases involving traumatic brain injuries, spinal cord injuries, amputations and has successfully recovered over $500 million for his clients. Mr. Lucas prides himself on not only helping survivors of trauma and their families recover from tragic situations, but by implementing institutional safeguards for the community.
Ranked among the Top 100 Southern California Super Lawyers in 2022, Mr. Lucas is recognized as a leading trial lawyer in California trying cases in venues across the state resulting in eight-figure verdicts. He has been the recipient of numerous awards for his work in the courtroom including nominations as Consumer Attorney of the Year by Consumer Attorneys of California (CAOC) and Trial Lawyer of the Year by the Consumer Attorneys Association of Los Angeles (CAALA).  Mr. Lucas is a member of the American Board of Trial Advocates (ABOTA) with an elevated rank of Associate due to the number of lengthy trials to verdict he has completed and is annually recognized as a Best Lawyer in America® .
Mr. Lucas oversees the firm's sexual abuse practice and is a leader in sexual abuse advocacy representing hundreds of sexual abuse clients in cases against religious institutions, school districts, and youth organizations. He currently serves in a leadership role in California representing survivors of sexual abuse as Plaintiffs' Co-Liaison Counsel in the Southern California Clergy matters.
Mr. Lucas has obtained numerous eight-figure verdicts and settlements in cases throughout California, including the following:
$48,500,000 settlement at the beginning of trial involving a 26-year-old man who was struck by a corporate vehicle and suffered a severe traumatic brain injury.
$30,000,000 settlementat the beginning of trial involving a 33-year-old man who was struck by a tractor-trailer and suffered a severe traumatic brain injury.
$19,466,000 verdict In Zastawnik v. Asplundh Construction, for his client who suffered severe ankle fractures and resulting pain disorder after being struck by a construction truck while riding a motorcycle.
$17,120,672 verdict In Huayanca v. Southland Transit District, for his 83 year old client who sustained a below the knee amputation after being struck by a bus in a crosswalk.
$13,000,000 verdict in Doe v. EōS Fitness,  in Riverside County Superior Court for a young girl who was sexually molested while in the care of EōS Fitness' Kid's Club in Palm Springs, California. This verdict is believed to be one of the largest of its kind in America.
$15,313,703 verdict in Francisco v. AC Transit, for a client who suffered a back injury while riding on a city bus.
$15,000,000 verdict in Tilton v. Southern California Gas Company, for a teenager who sustained a closed head injury after his vehicle was struck by a Southern California Gas Company utility truck.
$14,500,000 verdict in Barber v. Mossy Ford , in a complex tire failure case arising from a accident in which the parents of three young boys were killed.  Along with settlements reached with other defendants, the total award was in excess of $22 million.
$14,000,000 verdict in Curiel v. SSA Marine, for a man who suffered serious spinal cord injuries after a crane operator dropped a 25,000 lb. container onto the cab of his truck.
$21,000,000 verdict in Nelsen v. Hillyard Inc., for an Iraq war veteran who suffered a brain injury after being rear-ended by a commercial vehicle at high speed.
$20,000,000 verdict in Rivas v. J.B. Hunt , for a woman who suffered a traumatic brain injury after being involved in a collision with a tractor-trailer.
$10,500,000 in Nichols v. Alameda-Contra Costa County Transit, on behalf of a woman who suffered serious orthopedic injuries when she was struck by an AC Transit bus while crossing the street.  The case settled for $10.5 million.
$8,652,580 award in the matter of of Haskell v. Farmers Insurance, on behalf of his client who suffered pelvic injuries. The settlement offer in this case prior to the award was $300,000.
Outside the courtroom, Mr. Lucas is a frequent speaker on various issues, including traumatic brain, spinal cord injuries, and sexual abuse, and actively publishes articles in trade publications on a wide range of legal topics. He also spends much of his time dedicated to assisting his clients recovering from trauma obtain the best medical treatment available.
In addition to his work as a trial lawyer, Mr. Lucas is a member of the Pepperdine School of Law Dean's Council and serves on the Board of Directors of the Los Angeles Trial Lawyers' Charities (LATLC) which funds many local charity groups focusing on education, survivors of abuse, children, and the homeless.
Originally from Seattle, Washington Mr. Lucas graduated from the University of Washington with a degree in Business Administration.  During his undergraduate work, he completed an International Business program with honors from the University of Sevilla in 1999. He graduated from Pepperdine University School of Law in 2004, where he was the co-founder of the Pepperdine International Human Rights Program.
Fluent in Spanish, Mr. Lucas works with many of the firm's Spanish-speaking clients and is frequently asked to give legal commentary on national Spanish television and radio programs.  He has lived in Havana, Cuba, and throughout Mexico, where he spent his summers in college building homes for the homeless in Ciudad Juarez.
Mr. Lucas is a member of the State Bar of California, the District of Columbia Bar and the Washington State Bar Association. He is an active member of the Consumer Attorneys Association of Los Angeles, Consumer Attorneys of California, and Los Angeles County Bar Association, and regularly volunteers his time providing pro-bono legal services to foster children and children facing immigration deportation proceedings.